The Lord said, "Let there be the working class"; and the working class was born. But, in his divine even-handedness, the Lord also said, "Let there be the enemies of the working class"; and so the banias, the mahajans, the corporates and their protectors were also born. Ever since then, a ridiculously unequal contest between the two parties has been in progress. Minstrels sang about it; poets and novelists wrote about it; and even filmmakers, belonging to an infant invention compared to painting, music, theatre or dance, took up the subject, only to show a decline in interest in the fate of the worker and his family with the passing of time. But the worker went about his business regardless of who championed his cause and who opposed it. Judging by recent events on the ground, like massive protest marches by peasants and workers in different parts of the country, the contest between the 'haves' and the 'have-nots' appears to be far from over.
In this connection, one feels like sharing a 2019 experience garnered in a Bengaluru mall; all shining, spic-and-span, glass and steel. The experience relates to being administered a solid sock in the jaw, meaning my educated middle-class jaws, by a two-hour cinematic journey through the lower depths peopled by pickpockets, beggars, loaders, small-scale factory workers, street singers, street vendors and many, many others of their benaam biradari. These and other flawed saints, fallen heroes, conmen and diverse desperadoes are to be found aplenty in Old Delhi, where badshahsonce held court and poets sang of love and loss, friendship and betrayal. It was as if, all of a sudden, the boredom of festival jury work had metamorphosed into a delight and a welcome responsibility. My friends on the jury of the Bengaluru international film festival and I were one in giving the highest award to the film.
An impressive example of eclectic docufiction film art, Anamika Haksar's Ghode ko jalebi khilane le ja riya hoon (Taking the horse to eat jalebis) fuses many styles and many genres to critique the present-day market-driven society whilst portraying the fateful condition of the labouring classes in particular. From breathtaking absurdism to stark documentary realism, the film's images are so strong and painful as to become unbearable at times; and its employment of sounds, orchestrated or incidental, are as mysterious as they are moving. Haksar brings into play a rare sensibility compounded of theatre, film, painting, music, melodrama and horseplay, not to forget the desi cocktail of the audio-visual raw and the risqué. Ultimately, she is able to create a seemingly contradictory universe alternating between the hallucinatory and the life-affirming. So much colour in such colourless lives; such frenetic movements in such still lives! Contradiction as the essence of life and, perhaps, the surest path to growth and development may be argued to be an essential part of Haksar's cinematic vision.
The disappearing world of the 'normal' working man, or of the 'abnormal' one forced to make a living by picking someone's pocket because the march of history (read market) has been such as to pick his own of the right to work, appears to have found a team of deliriously imaginative and deeply compassionate chroniclers of the wretched of the Indian earth as they are to be found living like sewer rats in the dark and rotting stench of the once-fabled Shahjahanabad. Haksar and her associates (notably Soumyananda Sahi, Gautam Nair, Paresh Kamdar, Soumitra Ranade, Sid Meer, Lokesh Jain) attend to the disgrace of downfall from the grandeur of the medieval past with a lightness of touch that is all the more remarkable for its relentless flirtations with both the sublime and the ridiculous. The flying carpet effortlessly borrowed from Arabian Nights lore becomes as much of a metaphor for the pursuit of the fanciful and the pure, as a strategy for survival with honour in the face of formidable odds. Again, the image of a desperate comrade flying a giant red flag, straight out of Soviet-era iconographic art, seems like an ironic attempt to revive a proud past that is perhaps gone never to return.
These invocations, be they mythical or historical, are perhaps meant to suggest that since the Revolution had arrived and departed without touching the Indian subcontinent in any substantive way, the only way left to continue to be inspired by it is to memorialize it by turning to fairy tales or failed, if not lost, histories. Noticeably, a delicate yet defiant aesthetics of reclamation of the past in an effort to rejuvenate a sagging present, sends the largely invisible horse of the film's title on a hot trot for a taste of the halwai's culinary skills. But just as the confectioner is unlikely to willingly part with any of his wares to make the horse happy, so also are the hard-hearted, increasingly-abusive employers of Old Delhi opposed to giving fair wages or a little dignity to their hard-pressed workers.
Come to think of it, there was a distinctly surreal feel to the experience of watching an array of some of the worst-placed dregs of society being freely and fulsomely celebrated for their guts, their determination to fight for both wages and dignity, and despite the odds, their utter infectious sense of humour, in such sybaritic surroundings as those offered by the huge mall where one saw the film. Arguably, more than any other Indian metropolis gone Mammon's way, it is Bengaluru which seems to pride itself the most in its ability to take the lowly worker into its system and spit him or her out as and when its use of him or her is done with.
For all its engagement with subaltern humour in many avatars, Haksar's is a serious film. Hiding behind images of rib-tickling ribaldry, bolstered by original one-liners, is an insightful critique of the moral degeneration that has come to attend labour politics, especially since the advent of liberalisation some three decades ago, but never so severe as in the present times. A short sequence in the film showing employers exercising their "right" to have "unions" and compel workers to accept their "charter of demands" if they wished to remain in service when, till recently, the reverse was the case, tellingly articulates the contemporary marginalization, if not evaporization from view, of the trade union movement. In a sense, the film visibilises what large sections of the middle and upper classes appear to want to forget or to not notice about conditions obtaining around factories, mercantile offices, godowns, and big and small shops.
By means of a very personal visual language that both provokes and soothes, that both enrages and amuses, Haksar may be said to be expressing her belief that to achieve production, productivity and profit, you need more than just money (routinely borrowed from public sector or people's banks only to be routinely un-returned), machines and managers. The vital role of the worker to make a success of any industrial or commercial activity is conveniently forgotten by the State, the corporates and society at large. Workers, as the situation stands today, are the children not of a lesser god, but of non-existent gods. It stands to Haksar's credit that she makes a creative and meaningful effort to rescue the working man, a tragic victim of a pervasive collective amnesia. Using exaggerations and minimalisms in image and sound, alone and in unison, she tries to defeat the blight of popular indifference towards workers and, in its place, honourably re-instate them with "full back wages".
Patru, the pickpocket (played by Ravindra Sahu), Lalbihari, the loader (K. Gopalan), Chhadami, the vendor (Raghuvir Yadav), the nameless guide (Lokesh Jain), or the 350 street people acting in this maddeningly idiosyncratic film are as real as they are magical; they exercise the viewer's heart without neglecting the mind; emotions and imaginations hold hands as if they are lovers whispering in each other's ears plans for revenge but also hopes for a better day. Dreams die last, if they die at all.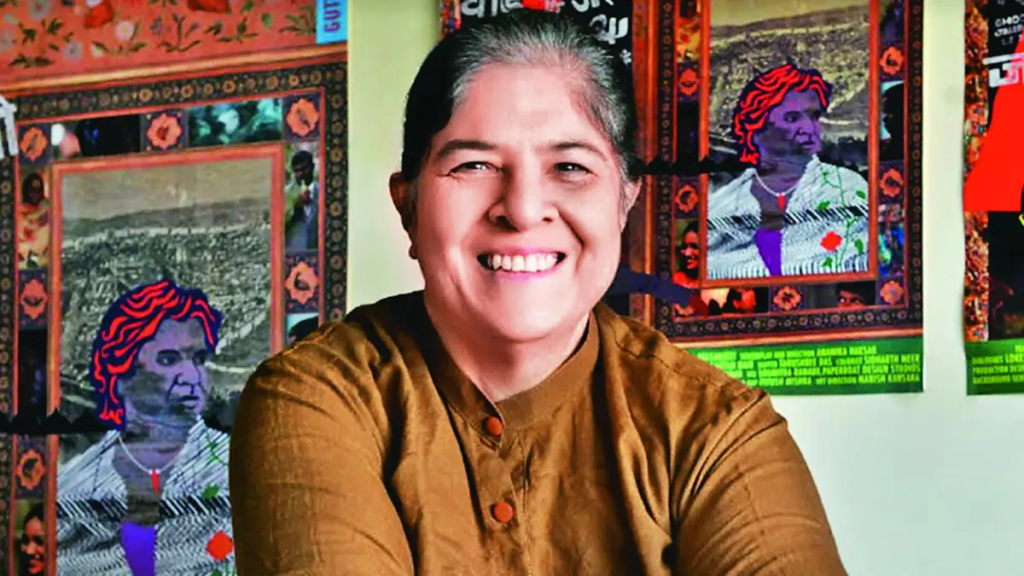 Speaking about her debut film, Anamika Haksar is on record:
Ghode ko is a result of seven years of documentation of the lives of the street people of Old Delhi. It does not move in a linear fashion. It moves like homeless and migrant communities from minute to minute changing its space and structure with every ongoing event. There is not one but several stories. We do not have the comfortable structure of saturated and complacent lives but have tried to tread with people who don't know what's going to happen next. The film uses both trained actors and real people. The Zen of small events is the source of celebration rather than big events. Since we have a very versatile team coming from different backgrounds: theatre, painting, animation, cinema and special effects, our film moves from real landscapes to photographs to theatrical moments to painted landscapes to absolute cinema, a journey exciting for all of us. The music has 'industrial sounds'. The music of the film moves from the contemporary to the traditional. The film moves from neo-realism to Indian folk and even to expressionism when it comes to dreams. The actors are steeped in deep understanding of theatrical traditions, both folk and contemporary. In terms of genre, the film moves between light irony and black humour.
Ghode ko jalebi is a much-wished-for adornment around the emaciated necks of a few well-chosen representatives of the massive unorganised/disorganised sections of the Indian working class. The varied tomfooleries that they routinely practise in ancient and dilapidated conditions, often on starving bellies, may disappoint the high priests of conventional cinema, but are likely to enthuse an absent Chaplin and his ever-present admirers. By remaining defiant of their oppressors even whilst working up a climate/culture of hope and comradeship, the tramps on view in this film might well remind one of the Original Tramp's unforgettable observation: "Nothing is permanent in this wicked world – not even our troubles"! In this increasingly hopeless world, hope, and hope alone, can cause the working man's clock to keep ticking. All through the film's two-hour duration, its director keeps telling us one improbable, fanciful, absurd, real and life-affirming story after another, perhaps in the belief that once we stop inventing or discovering such stories, we would die. I daresay, Ghode ko jalebi is not for the constipated upper class purist; it is more in the nature of an anchor for the proletarian drifter caught in a storm of both visible and hidden dangers.
---
(The writer is an award-winning film critic and writer based in Kolkata.)