"We20: Peoples' Summit on G20", a three-day event organised by over 70 organisations from different parts of India in the national capital of Delhi concluded with much vigour and energy, albeit a day earlier due to the pressure from the police who rejected the permission to hold the event on Day 3.  
In the early morning on Day 3 i.e. August 20, 2023 Delhi Police came marching with a written order which forced the closing down of the program. The event, held at Surjeet Bhawan faced hurdles on Day 2 with the Delhi police trying to interrupt the peaceful proceedings, but with peoples' resistance and remarkable show of spirit, they backed out, and the program continued as scheduled. Under duress the Summit had to be curtailed.
Several movement leaders and activists who were present at the venue strongly condemned the police action, calling it deeply undemocratic and against the ethos of our constitution. Senior activist, Medha Patkar, remarked that "this is not the end, and we need to continue these struggles at the level of villages and towns, and give voice to the issues of the people."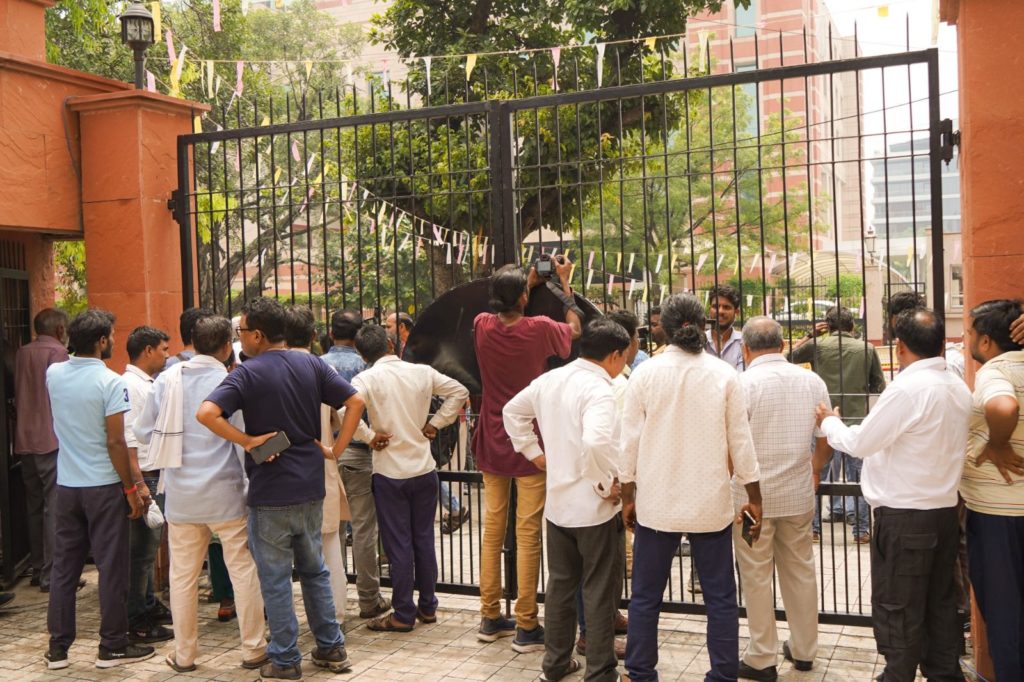 Thomas Franco from People First said, "Article 19 (1) of the constitution provides for freedom of speech and freedom of expression. No law prevents people from gathering for a peaceful discussion. We condemn the BJP government, who are trying to take away the rights of the people."
Shaktiman Ghosh of National Hawkers' Federation condemned the police action and added that "we will fight against these fascist trends, come what may."
Background
The We20 Peoples' Summit was being held in the backdrop of G20 Leaders Summit set to be held in Delhi in early September. However, despite spending crores on advertising, the G20 summit remains an informal elite club, holding all its discussions closed door, with no participation from people who are affected by their decisions and recommendations. It is going to be less about real concerns of the people and more of a prescription from the 'masters.' 
India's presidency og G20, which has been advertised extensively with an atrocious 51 crore spent on outdoor advertising alone, has not resulted in taking the peoples' issues forward, instead what we are seeing is a backsliding of the issues itself. The poor and their homes have not just been hidden, they have been evicted and their homes bulldozed in the cities where G20 meetings took place.
In this backdrop, We20: A Peoples' Summit on G20 is being held in the run-up to the 18th G20 Leaders' Summit to be held in New Delhi early September.  It is an effort to bring people's voices to the forefront and raise their issues and concerns for a more democratic, just and inclusive financial system and political order. 
Over 700 delegates from different parts of the country, representing people's movements, trade unions and Civil Society Organisations came together at the Inaugural program that saw participation from Teesta Setalvad, Medha Patkar, Jayati Ghosh, Manoj Jha, Harsh Mander, Arun Kumar, Brinda Karat, Hannan Mollah, Rajeev Gowda among others. The 6 workshops, on issues ranging from Global Finance, Big Banks, and its Impact on People, Right to Information, Digital Data and Surveillance, Climate Change & India and G20 witnessed speakers including Jairam Ramesh, Vandana Shiva, Anjali Bhardwaj, Amrita Johri, Nikhil Dey and others.
By sending the police to stop the Peoples' Summit, the Modi administration, under which the police department is, was sending a clear message that they do not want to listen to peoples' issues. It wants to show to the world a clean and shining India by demolishing hutments of the poor and marginalised and 'beautifying' the city. That, it is bent upon curbing any voices of dissent.
While in the official G20 summit there are claims of us being the "Mother of Democracy", the state of affairs that we have witnessed here at the We20 Peoples' Summit only goes on to show how we are inching closer to being a police state. One where even dialogues, deliberations inside the four walls and thoughts are being policed.
Declaration
In a declaration adopted by the Summit, it called "for solidarity and unity among all democratic forces, peoples' movements, civil society organizations, human rights defenders and progressive individuals to demand robust South-South cooperation, and a just, inclusive, transparent and equitable future for people all over the world." 
It also said that there are thousands of grounded, community-led initiatives towards genuine, just, equitable and ecologically wise ways of meeting human needs available across the G20 countries, which governments and others can learn from and help expand to communities.
Whereas, as remarked by Rajkumar Sinha, from Bargi Bandh Vishthapit Sangh, "The G20 has neglected the concerns and issues of a large population. The Peoples' Summit gave us the opportunity to talk about the key issues like inequality, climate crisis, just energy transition, labour rights, social protection, corporatisation of agriculture, attack on natural resources and real alternatives and much more." 
The declaration 'People and Nature over Profits for a Just, Inclusive, Transparent and Equitable Future' condemned the police action and while critically looking at the G20 and demanding the overhaul of the international financial architecture. It called out the false market-based solutions to the climate crisis proposed by the G20 which have resulted in financialisation of nature and deprivation of natural resource-dependent communities, and greater debt distress. It rejected corporate capital's capture of global food governance through the Agreement on Agriculture in the WTO, and emerging bilateral and multilateral trade agreements.
The Declaration also said that the root causes for rising inequalities are unchecked capitalist expansion supported by pliant nation-states, tax evasion and avoidance by powerful rich actors. It opposed the commodification and privatization of healthcare promoted by the 'One Health' approach.
It rejected the blue economy agenda of the G20 that aims to economically exploit the marine ecosystem and resources, and turn conservation into a profitable venture. It expressed deep concern at the weakening of environmental and ecological safeguards in the name of 'Be Ready' or for the single-minded pursuit of economic growth.
The declaration also strongly condemned the erosion of democratic institutions and spaces, the attack on the constitutional values, civil society groups, human rights defenders and academic bodies, the use of digital surveillance and data privacy, the dilution of laws related to right to information, criminalisation of dissent, unjust use of government agencies to suppress peoples' voices, and increased social antagonisms and communal tension engineered by rightwing forces.
People vowed to raise issues of G20 in their respective states and towns in the coming days.
Inaugural Session
Over 500 delegates from West Bengal, Bihar, Jharkhand, Madhya Pradesh, Maharashtra, Tamil Nadu, Kerala, Rajasthan and other parts of the country, representing people's movements, trade unions and Civil Society Organisations came together at the Inaugural program at We20: Peoples' Summit on G20 on August 18, 2023 in New Delhi. The Summit saw participation from Teesta Setalvad, Medha Patkar, Jayati Ghosh, Manoj Jha, Harsh Mander, Arun Kumar, Brinda Karat, Hannan Mollah, Rajeev Gowda among others. 
India may be claiming itself to be the Mother of Democracy on this eve, but reflecting on Dissent and Democracy in India, democratic rights activist Teesta Setalvad said, "The nature of the state has changed. And the parliament is being used to undermine the constitution."
Economist Arun Kumar speaking on G20 and its impacts on India's key sectors said, "Marginalised sections are ignored in our policies. The focus is on the already rich. Is there any opportunity at G20 for people? Our ruling class is aligned with the ruling class of the developed countries."
Medha Patkar, of the Narmada Bachao Andolan, asked what is the need for a block like the G20. For whose interest was it originally created? This is clearly a mandate of the corporates, which is also being used to attack our law and constitution. 
Rajeev Gowda remarked, that 'despite Modi government's best efforts, and tax sops, private players have so far preferred not to invest in sectors that the government has wanted them to.'
Thomas Franco from All India Bank Officers' Confederation said, "The entire financial sector has been taken over by World Bank, IMF and Financial Stability Board. In the name of reform, what they promote is Privatisation, Corporatisation and marginalisation of the majority. We have fought these reforms from 1991 till now, and no bank could be privatised. What is needed now is to stand up and defeat fascist, corporate and communal forces."
Shakeel bhai working with the Basti Suraksha Manch and Rekha affected by the eviction at Bela estate summarised their plight in a simple question, she asked, "Are the lieutenant governor and the Prime minister, poorer than us that they need our things to be picked up by the police?"
Speaking about the G20 and the changing financial architecture, economist, Jayati Ghosh, remarked, "Many things were promised from the Indian presidency – we'd wipe out inequality, clear debt crisis, bring tax reforms, would stop illicit financial flows etc. But this has been the least productive G20, which didn't even manage to get a common communiqué."
Rajya Sabha MP, Manoj Jha, commented, "The struggle to fight fascism is the combined fight from the roads to the parliament."
Harsh Mander from Karwan-e-Mohabbat, "If the government does not change in 2024, the story of Manipur will be all of our stories."
This 3-day program included a total of nine workshops with diverse themes ranging from Global Finance, Big Banks, and their Impact on People, Right to Information, Digital Data and Surveillance, to Reimagining Cities and a cultural program on the 20th that could not happen due to police onslaught. 
Over 70 organisations, unions and peoples' groups including National Alliance of People's Movements, Focus on the Global South, All India Union of Forest Working People, Narmada Bachao Andolan, Environment Support Group (ESG), Peoples Resource Centre, People First, Alternative Law Forum, Manthan Adhyayan Kendra, Delhi Forum, Jharkhand Mine Area Committee, Parisar, Basti Suraksha Manch, National hawkers Federation, Pani Haq Samiti and Ghar Bachao Ghar Banao, among others were instrumental in shaping the event.  
Dayamani Barla, Adivasi-Moolvasi Astitva Raksha Manch, Abdul Shakeel, Basti Suraksha Manch, Olencio Simoes, National Fishworker's Forum, Ritwick Dutta, Legal Initiative for Forest and Environment, Roma Malik, All India Union of Forest Working People, Shaktiman Ghosh, National Hawker's Federation, Wasiq Nadim Khan, United Against Hate also shared their thoughts amidst great reception from the audience. 
The colourful Summit also had multiple stalls from artisans and movement groups across the country displaying traditional arts, books and handicrafts. 
For more details go to the website: https://wgonifis.net/g-20/